PTA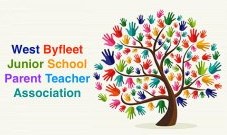 The Parent Teacher Association of West Byfleet Junior School is a friendly and active team of parents. The ethos of this committee is to help raise money to support more activities and experiences for our children - things that are fun and will enhance their time at the school, whilst promoting inclusiveness for any children within the school community facing extra challenges, whatever those might be.
As a parent you are automatically a member of the PTA.
Our current committee members:
Tammy Stoltz - Chair
Sabrina Atkins – Vice Chair
Angela Brown – Treasurer
Valerie Drunaud-Bennett – Secretary
Claire Zanutto - Events Co-ordinator
Please join us by coming to our events and helping us in any way you can!