PTA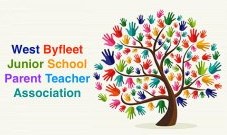 The Parent Teacher Association of West Byfleet Junior School is a friendly and active team of parents. The ethos of this committee is to help raise money to support more activities and experiences for our children - things that are fun and will enhance their time at the school, whilst promoting inclusiveness for any children within the school community facing extra challenges, whatever those might be.
As a parent you are automatically a member of the PTA.
Our current committee members:
Tammy Stoltz - Chair
Angela Brown – Treasurer
Sabrina Atkins – Assistant Treasurer
Valerie Drunaud-Bennett – Secretary
Jen Othen - Committee Member
Sylvia Coetzee - Committee Member
Please join us by coming to our events and helping us in any way you can!

A great start is by contributing subs, a form will have been sent home but there is also a downloadable one at the bottom of this page, whilst it is not compulsory, the regular income goes a long way towards subsidising the core extra curricular activities such as forest school and whole class music lessons. There are lots of payment options listed on the form, please use the one that suits you best.