Windermere go Forest crazy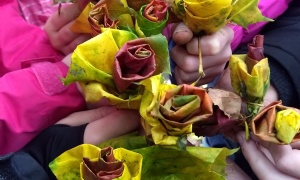 Today, after a quick warm up game, Windermere created their ball runs in small groups.
They got busy digging holes and gullies, making hoops and obstacles and trying out their beautiful home-made mallets.
There were lots of creative ideas and great team work.
The autumn leaves were beautiful and the children learnt how to make leaf roses that looked stunning!
The giant ball run/ crazy golf course, linking all the children's work was an exciting game which everyone enjoyed. There was lots of laughter and concentration as the children worked to complete each section with all its challenges.
There was a choice after this to continue the ball run games, experiment in the mud kitchen or build a fire from scratch with friends. The children worked hard to complete each step fully to build a successful fire. Everyone toasted a marshmallow over the fire and groups carefully put out their own fires with water.
There was just time to fit in a tree climbing session which had been requested.