WBJS Bookmarks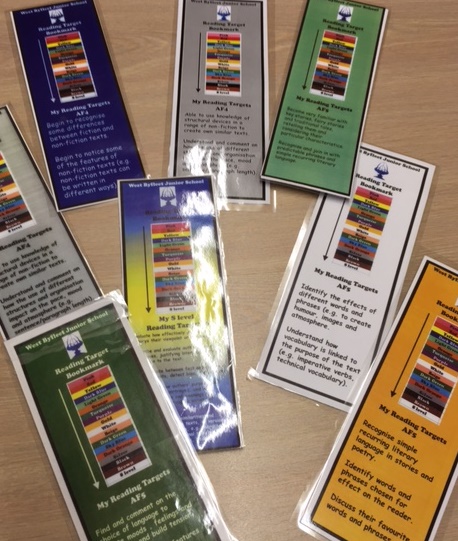 In order to enhance our children's progress in reading and the support you are able to provide at home, WBJS have devised their own Reading Target Bookmarks. We have designed these bookmarks for a number of reasons:
to help children be more clear of their reading targets;

to show the progression in our reading scheme, in terms of colour bands;

to help inform parents of their child's reading target;

to enable Guided Reading sessions to have the same AF targets for reading.
Your child will be working through the colour banded books within our Reading Scheme. The class teachers will assess your child every half term (more regularly where necessary) to move them on to the next colour when appropriate. Each colour band on the Reading Scheme will have several bookmarks to work through. Each bookmark will link to a different assessment focus which will be used to assess your child's comprehension of a text.
There are seven different areas of focus for reading (AFs) that describe the key elements of performance in each attainment target. They are designed to give a detailed, analytic view of pupils' attainment across the key stage and in all types of reading. Please see the attached sheet for more information on each assessment focus.
Please refer to the attached documents below for more information regarding what the AFs mean in practice, the Reading Scheme levels and for further information explaining the literacy definitions of inference and deduction, a vital skill required for reading and comprehension.
We thank you in advance for your support with not only using the new bookmarks but supporting your children in keeping them safe. We hope you enjoy a greater focus to your reading sessions with your children.